Colours and Coating for
Steel Supplied by BlueScope Malaysia

Non-Colour Category

Colour Category

Practical

Premium

Practical

Standard

Zincalume

Clean Colorbond

Prima-R Maju

Zacs Painted

Coating Mass

 AZ150

AZ150

AZ100

AZ090

Warranty against perforation by corrosion

Up to 25 years

Up to 25 years

Up to 15 years

Up to 10 years
AZ-coated steel like Zincalume® by BlueScope Steel Malaysia provides stronger and durable resistance against corrosion as compared to conventional galvanized steel. The higher the AZ coating mass, the better the metal deck roof resistance against corrosion. For other colours and coating, please contact us.

Clean Colorbond
Prima-R Maju
ZACS
Metal Roof Materials From BlueScope Malaysia
Since the 1960s, Clean COLORBOND® steel by BlueScope Malaysia has been a leading brand name in the building and construction industry, known widely as versatile, beautiful, durable and high quality steel building materials. It can be applied for everything from roofing, walling and guttering, fences, sheds and warehouses, and even insulated panels for cool rooms and specialist architectural panels for distinctive cladding applications.

Clean COLORBOND® steel applications are endless and only limited by the imagination. Be it urban or rural, industrial or residential, Clean COLORBOND® steel can be used in projects which feature prestigious roofing and walling, architectural panels and buildings accessories to highlight the excellent building designs.
The unique paint system of Clean COLORBOND® steel prevents fine dirt and other particles from bonding to the building surface even in the very hot and humid environments of Southeast Asia.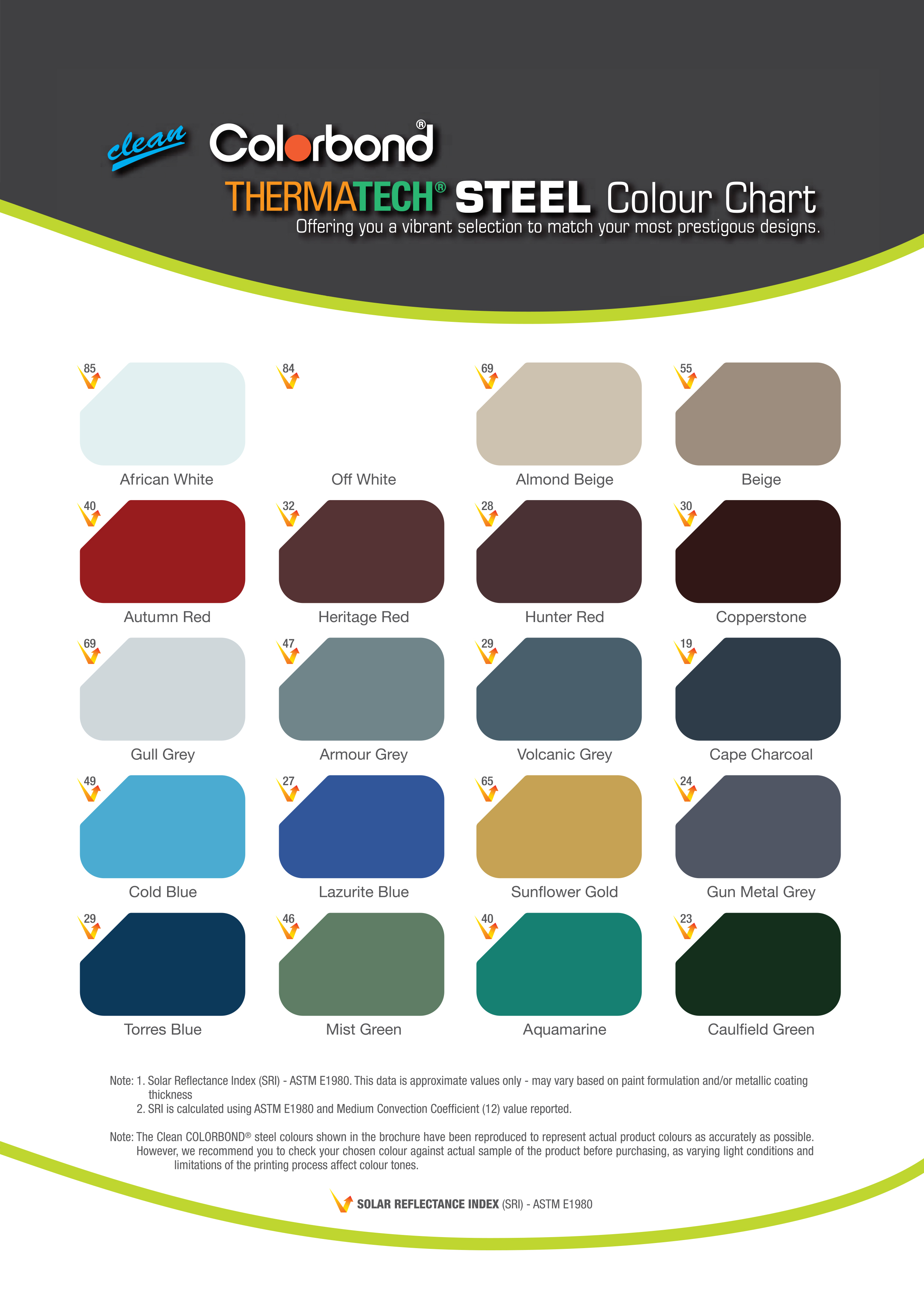 Designed with corrosion resistance to outlast pre-painted galvanised steel (PPGI), PRIMAMAJU-R
TM
steel by BlueScope Malaysia has a unique 55% Aluminium, 43.5% Zinc and 1.5% Silicon coating offers affordable and longer lasting protection.
PRIMAMAJU-R
TM
steel is ideal for projects that require flexible and cost effective building solutions. PRIMAMAJU-R
TM
steel offers thermal comfort with outstanding thermal efficiency and termite resistance. PRIMAMAJU-R
TM
steel is available in long, continuous sheets and when fixed securely will ensure year after year of weather-tight performance with easy maintenance.
Like all steel building materials, PRIMAMAJU-R
TM
steel is recyclable – making it one of the most sustainable building materials for application in industrial, commercial and infrastructure projects.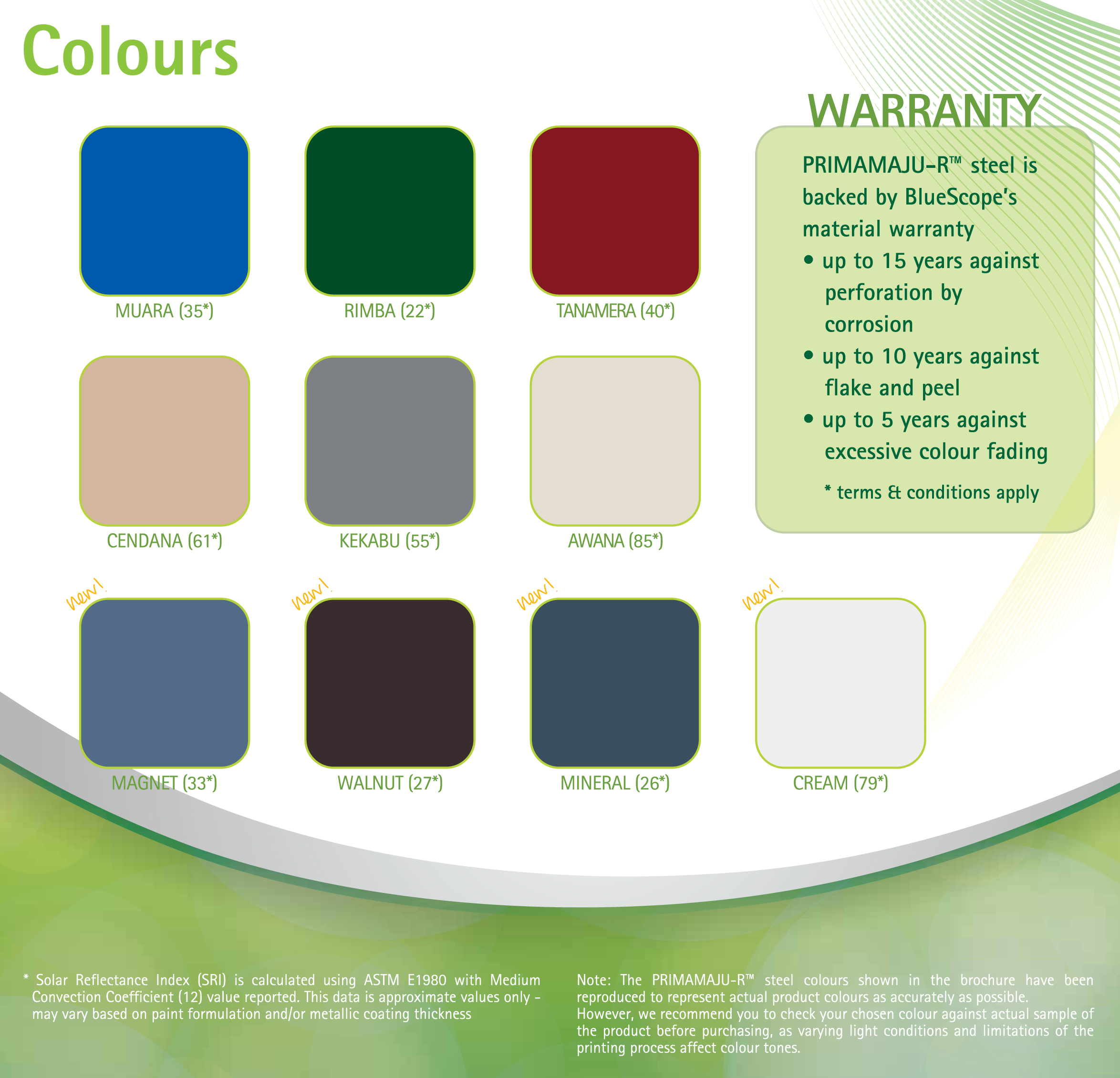 Produced using modern computer controlled coil coating line, BlueScope Zacs® Steel by BlueScope Malaysia is long-lasting and more thermally efficient than zinc galvanized steel, making cooler buildings and giving long-lasting protection against corrosion.
BlueScope Zacs® Steel are specially designed for roofing, wall cladding, rainwater goods and accessories for residential and SME Segments, this cost-effective solution meets customers manufacturing requirements and end-users performance expectations. BlueScope Zacs® Steel comes in a range of thickness, features, finishes and coating mass of 100 g/m2 for ZACS to 70g/m2.